PI in SAP NetWeaver stands for Process Integration. It is formerly known as SAP XI. SAP PI is one of the core functional components of NetWeaver architecture. It enables an organization to exchange information between their internal software and systems. By using PI they can integrate their applications from multiple systems and it enables the SOA capabilities. SAP PI is built up on SAP Web AS (Web Application Server)
SAP PI Architecture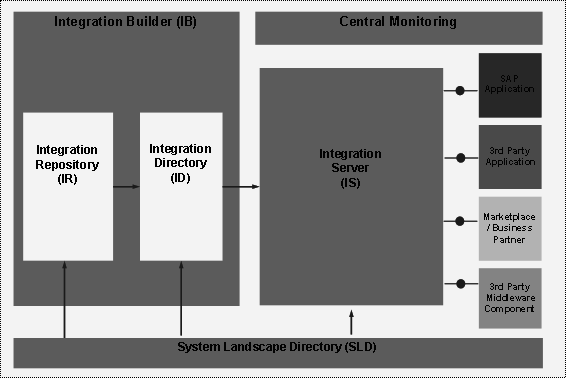 Integration Builder (IB): It for developing and configuring the central knowledge for applications integration.
Integration Repository Tool (IR): To define the design of cross-system applications
Integration Directory (ID): Contains the configured content made from collaboration knowledge.
System Landscape Directory (SLD): It acts as the central information database.
Integration Server (IS): It is the central component of SAP NetWeaver PI. It analyzes the data from ID and SLD and process and then forward the messages to senders at run time. The main components of Integration Server are.
Business process Engine
Integration Engine
Adapter Engine
Integration Server is responsible to communicate with
SAP Applications
3rd Party Applications
Market Place or Business partners
3rd party middleware components
---
Also Read :
SAP NetWeaver Introduction
->
PI ABAP Transactions
->
PI Adapters
---